Mark you calendar 🧇 day is upon us.
Whenever I go to a diner, I skip omelettes and order a Belgian waffle (or two) with a side of pork roll.
On August 24th, to commemorate the invention of the stove-top waffle iron, we celebrate National Waffle Day.
In our house, that means waffles for dinner. If you want to participate (and why wouldn't you?) stash these great recipes in ClipDish, and join the celebration 🥳.
Waffle Recipe
Making waffles from scratch is really not much harder than buying a store bought box. The only trick is to make sure you mix the dry ingredients together before you add the wet ingredients.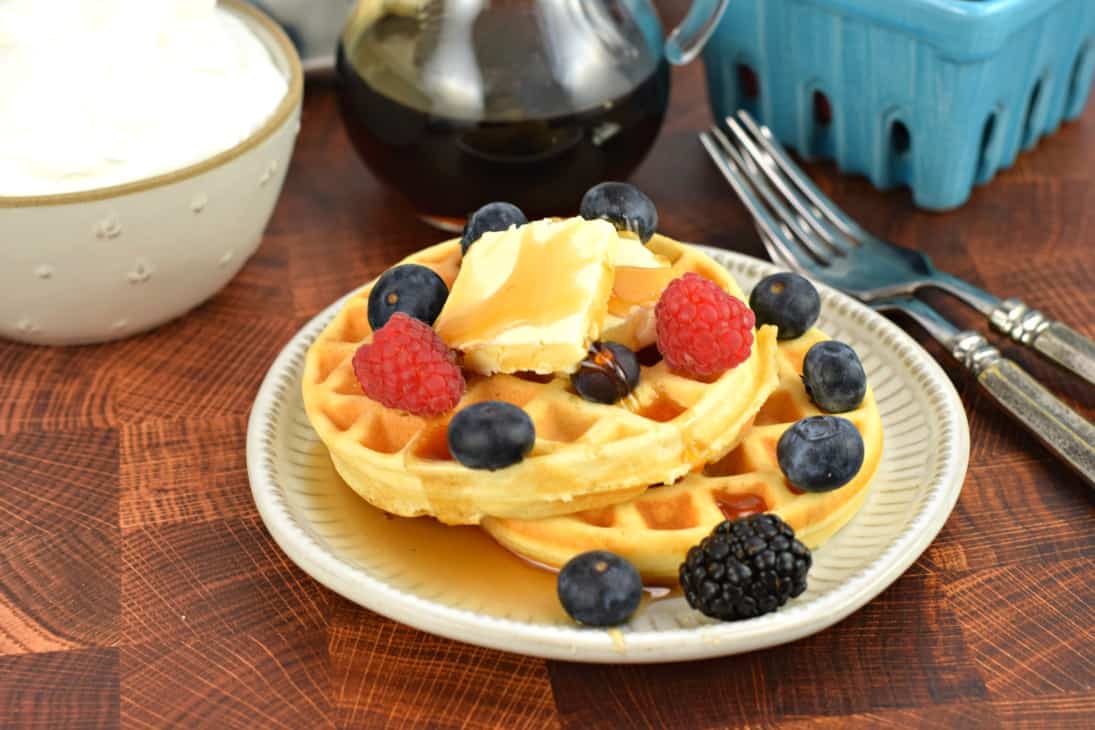 Homemade Waffles
Learn the secret tips to making homemade waffles for the perfect breakfast experience. Freeze or serve immediately, or keep the dry waffle mix for later.
Fruit compote
I'm a traditionalist, waffle + butter + real maple syrup = 1 happy belly. My wife loves fruit with her waffles. For our Waffle Day celebration I'm going to use some fresh summer peaches to make a delicious compote.
Fresh Peach Compote
Only 4 ingredients and 15 minutes are needed to make this flavorful peach sauce. Spoon it on top of yogurt, waffles, vanilla ice cream and more!
Whipped cream
If you're putting fruit on a waffle you must have whipped cream. Don't buy it from a can. Fresh whipped cream is so much tastier with only three ingredients, really easy to make.
Easy Homemade Whipped Cream Recipe (Video)
Homemade whipped cream is easy to make with only 3 ingredients in 5 minutes! Watch the video and follow our step-by-step photos to learn how to make the best homemade whipped cream recipe!
How long should I cook waffles?
If you don't have a fancy waffle iron with a timer than you're going to have to time it yourself. When you cook waffles, you'll notice steam coming from the waffle iron. Keep an eye on it. After about 2½ minutes, the steam should stop. When it does, check the waffle, if it looks brown and crispy it's finished.
How do I keep waffles warm after making them?
If you're making waffles for a large family then unless you have multiple waffle irons you're going to have to batch cook and keep them warm. No one likes a cold waffle, soggy waffle!
The best way to keep waffles warms is to:
Heat your oven to 200 °F / 93 °C
Place your waffles on a baking rack stacked in a cookie sheet.
Put the cookie sheet in the center rack of the oven for no more than 15 minutes.
You absolutely don't want to put the waffles directly on a cookie sheet. If you do they will continue to cook and become soggy. If you don't have a baking rack you can put them right on the oven racks.
If you keep them in the over for 15 minutes or less at 200 °F you won't dry them out.
What other tools do I need to make waffles?
Look people this isn't rocket science! Get your self a decent waffle iron.
The only other thing I'd recommend is a set of tongs to lift the waffles. Wait, did I catch you mid waffle trying to peel it off with a metal fork? Don't do it! You'll scratch the non-stick surface releasing those nasty cancer causing chemicals into your waffle. We don't want that now do we?
More wafflely goodness
I've only shown you a few waffle related recipes. You can find a lot more waffle recipes by typing "waffles" in ClipDish Discover. Get cooking!