Back in the mid-90s, I was a young software engineer. To close out the year, we'd have an in-office Old Fezziwig-style holiday party, replete with great food and drink.
One of the engineers, Mike DeDominic, would whip up a couple of gallons of a homemade boozy eggnog that we'd enjoy while working through the day. I lost that recipe years ago but I thought I'd pay him homage this holiday season by finding (and making) some great eggnog recipes.
Eggnog has been around for a long time. The origins are traced back to a poem written by an American clergyman in 1755.
There is even a recipe rumored to belong to George Washington.
Whatever the history, you can't go wrong with these recipes. Stash them in ClipDish and whip up a batch or two for the holidays.
How to make eggnog?
While eggnog has been around for hundreds of years we're going to start with a modern classic: the 1958 Eggnog recipe from Craig Claiborne, The New York Times food editor and restaurant critic. The late Anthony Bourdain once said he never buys eggnog at the 7-11 but instead uses "the old Craig Claiborne recipe." It's probably the only Eggnog recipe you'll need. In fact, in researching this article most of the recipes I came across were variations of this one.
Craig Claiborne Traditional 1958 Eggnog
Difficulty: Easy
This is the
Ingredients
12 eggs, separated

1 cup granulated sugar

1 cup bourbon

1 cup Cognac

½ teaspoon salt

3 pints heavy cream

Grated nutmeg

1 to 2 cups milk (optional)
Directions
In a mixer beat the sugar and the egg yolks.
Add the bourbon and Cognac while mixing at low speed. Refrigerator for several hours.
Mix the salt into the egg whites until stiff.
Mix the cream until stiff
Fold the stiff cream into the egg yolk mixture. Then fold in the egg whites. Chill for 1 hour
(Optional) you can thin out the eggnog with the milk. Add until you achieve the desired consistency.
Aged Eggnog
Ok, I lied, it's not the only recipe you need. This next nog comes from Alton Brown. Alton's delivers an aged eggnog which, according to him, could be stored for months in your fridge. This recipe sounds so amazing I don't know how anyone could keep it around long enough to age.
Aged Eggnog Recipe – Alton Brown
A winter holiday classic, Alton Brown's aged eggnog blends rum, bourbon, and cognac with dairy and nutmeg for a complex Christmas cocktail.
Eggnog with Tequila
The next recipe from cookbook author David Lebovitz is an interpretation of Jeffrey Morgenthaler's eggnog recipe. This one substitutes tequila for brandy.
Jeffrey Morgenthaler's Eggnog
Adapted from Drinking Distilled: A User's Manual by Jeffrey Morgenthaler This recipe can easily be scaled up. I ended up tipping a little more tequila into the eggnog, which is the higher amount given. You can start with the smaller, and use more, to taste. Jeffrey recommends using anejo tequila …
Vanilla Bean Eggnog
Recipe blogger Sabrina from My Three Seasons has her own take on eggnog. She modified an eggnog ice cream recipe to make her eggnog base. The addition of vanilla bean adds complexity and enhances the bourbon.
Vanilla Bean Eggnog · My Three Seasons
Who doesn't love a rich, creamy glass of eggnog around the holiday time? My homemade Vanilla Bean Eggnog will beat out the store bought stuff hands down.
Ponche Crema – Venezuelan Eggnog
Finally, let's take a trip to South America to enjoy this delicious Venezuelan variation on eggnog. Ponche crema is traditionally enjoyed at Christmas time. What makes it different from traditional eggnog is the sweetened condensed milk and Venezuelan rum.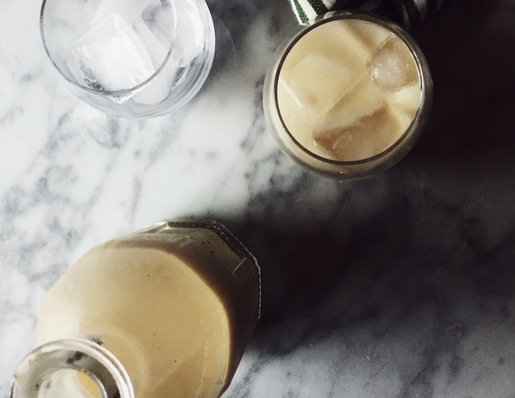 Ponche crema recipe from Venezuela | Gourmet Project
Ponche crema recipe: the Venezuelan eggnog (or zabaione). Made with Venezuelan rum and sweet condensed milk. Get the recipe on Gourmet Project.
What kind of alcohol is in eggnog?
I remember watching my grandmother pour rum into a carton of store bought eggnog. I didn't know much about alcohol but I'm pretty sure she used white rum.
You don't have to limit yourself to just rum (but please if you do, go dark) In fact, the spiked eggnog recipes shown above often have one or more of the following types of alcohol.
Whiskey
Bourbon
Rum
Brandy
Cognac
These days, I use bourbon and brandy.
Your turn
All of these eggnogs are delicious and will beat the pants off the overly processed stuff you'll find in a store. If you try any of these let us know in the Facebook group.